SWING BOUTIQUE is a group of Central Florida musicians whose focus is a genre of music best defined as "Parisian Café jazz".
The repertoire contains jazz standards (such as Minor Swing and Nuages), Parisian waltzes (Under Paris Skies, Under the Bridges of Paris), many well-known jazz tunes (April In Paris, I Love Paris, Paris Blues) as well as some original music.
It is jazz but with a distinctly European flair, or as the French would say a "je n'est sais quoi"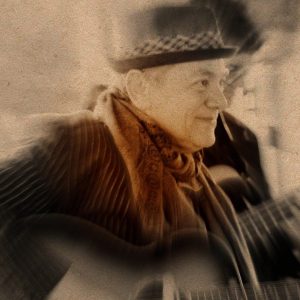 GEORGE GROSMAN
Born in Prague, the Czech Republic, George studied at the Guildhall School of Music in London before embarking on a performing career that has taken him to clubs, lounges and concert stages on three continents. He led a popular blues band in Tel Aviv, Israel in the '70s (The Middle East Blues Band), another popular blues band in Reykjavik, Iceland in the '90s (Red House) and a variety of blues and jazz ensembles in Toronto, Canada where George lived for a couple of decades before moving to the U.S. George's Canadian band, Bohemian Swing and it's signature album, "Sidney, Mon Ami" (a tribute to New Orleans great soprano player, Sidney Bechet), can be heard on a wide variety of jazz radio stations across North America.
JOHN KEITH
A native of Winter Park, Florida, John has been playing his accordion for over 30 years.  His style evolved over the years while playing in New Mexico and Maryland in bands that played Americana and Polka, then Western Swing/Jazz, then onto Gypsy Jazz, Zydeco/Cajun and has finally lit, butterfly-like, on playing Jazz with a French Twist with "Swing Boutique".  He also currently works solo, has his own Jazz/Americana band and works with other bands on an on-call basis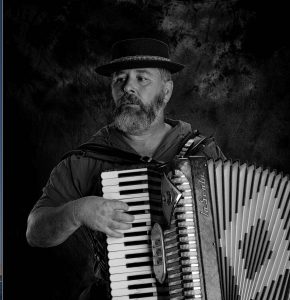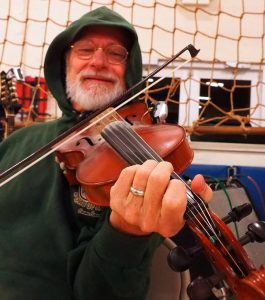 BO FRAZER
Born and raised in Philadelphia, Bo is a sought after violinist, multi-instrumentalist and teacher based in Melbourne, FL. His specialty is Western Swing and bluegrass. Bo criss-crosses the state of Florida, playing in a variety of bands too wide to list. Since he is a gifted improviser not just on violin but also on mandolin, guitar, pedal steel guitar and upright bass, Bo either performs or teaches music every day of the week. In addition to Swing Boutique, Bo's other "main" band is Take the Hay Train, a western swing/jazz outfit comprised some of Florida's top-shelf musicians.
NICK ROSACI
A Florida native, Nick is a bassist with Disney World and Universal. He is a busy session player who, like all the other members of Swing Boutique, works with a variety of outfits, from pop and jazz to symphonic ensembles. Nick is a gifted music transcriber and that ability led him to author the authoritative biography of Memphis bass legend, Donald "Duck" Dunn called Soul Fingers. Aside from detailing the life of the legendary bassist, the book contains many never before attempted transcriptions of Dunn's work with many seminal 60's and 70's soul music artists. The book is available on Amazon and other retailers.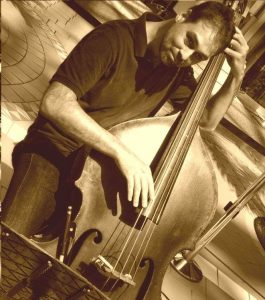 Past performances include:
The Toronto Jazz Festival,
College Park Jazz Festival,
The Foosaner Museum in Melbourne,
The Norton Arts Museum in West Palm Beach,
The Salvador Dali Museum in St Petersburg,
Bok Tower Gardens in Lake Wales,
Many other prestigious Florida venues.
The band has travelled to Savannah, GA and has played sold out concerts in Toronto, Canada.
Highlights from George Grosman and Swing Boutique's performance at one of Orlando's most prestigious venues, The Timucua Arts Foundation.
Video captured by Benoit Glazer.